My very first Mother's Day is coming, and I have to say, I'm pretty excited. There is nothing better than being a mom!

In celebration, My Little Life is hosting Mother's Day Mania- five days of some fun themed posts, all in honor of awesome moms!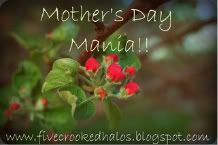 Today in Whoopsie Wednesday-So here it is, my first (and worst) mommy fail!
Chazz was 6 weeks old. I was sitting on the couch, and he was next to me propped in the corner with a pillow. I don't know what I was thinking, but I got up to yell something to Roman in the kitchen. And in that split second, the worst happened.
I don't know what the hell I was thinking. That maybe he couldn't possibly move? That he was safe for a quick sec? Or maybe that because I was "right there" nothing could happen...
But sure enough, he managed to thrust himself right off of the couch.
I didn't even see it. I just heard the "thud."
In that moment, I looked over, and my heart sank. Just the silent look of panic on his face before he screamed is enough to make me feel sick every time I think about it. My feet didn't even touch the ground, before I was right there, with him in my arms wailing. And I was crying right there with him.
I just held him close. And even though he was over it in no time, I still felt like a crappy mom. My heart was just crushed! I couldn't believe myself. They tell you a million times to NOT do that! I let my little man get hurt... and it was all my fault.
A.Big.Fat.Mommy.FAIL!
Believe me, I wanted to crawl in a hole and not come out. But mommin' is all about learning... And thank goodness we learn from those whoopsie moments. I'm thankful he was ok, but wow was that an eye opener for me. I would never ever ever leave him anywhere by himself again!
Whew! I'm glad I got that off my chest! Now head over to get linked up... I know I'm not the only one with a deep dark mommy fail secret!